Thank you for taking a few moments of your time to browse through this website. The following structures and assemblies are custom built and unique to the marketplace.
Buildings are assembled structures, not kits. The structures come fully painted and water repellent making them ideal buildings for indoor or outdoor use. The paint used is an all-weather exterior paint, as is the stain. The structures are painted or sealed inside and out. The end grain is completely sealed. The windows and doors are all scratch milled and hand assembled. All structures and accessories are ½" scale – 1/24", G-Scale compatible.
Custom structures, colors, or stains available.
I have had some of these buildings in my own outdoor layout for over 5 years. Beyond normal weathering, adding to the realistic look of the building, they have stood up beyond my expectations.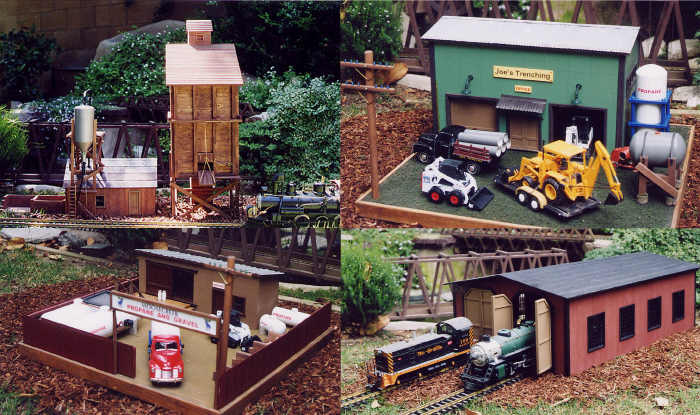 Thank you again for your time and consideration. I hope you enjoy what you see. Looking forward to hearing from you.

Authorized Walthers Dealer
Contact Information
Telephone

310-539-4246 (Pacific Time Zone)

FAX

310-539-4246

Electronic mail

General Information: JSWoodcrafts@sbcglobal.net
Webmaster: JSWoodcrafts@sbcglobal.net

We accept Visa, MasterCard, American Express, Discover and PayPal via PayPal Invoice. Please refer to the Ordering Info page for details.